Clinical and organizational psychologist, Fellow of the Australian Psychological Society and the Australian Institute of Management, Member of the International Coach Federation.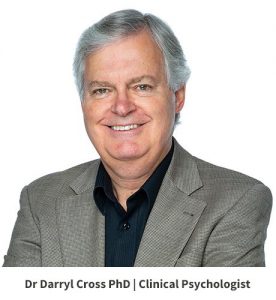 Darryl has worked for the Australian federal government as a vocational psychologist, been a senior tutor in psychology at the University of Queensland in Brisbane for 7 years and lectured full-time in the Masters courses in psychology at Macquarie University in Sydney for a 3-year period. He was previously a sessional lecturer in "Leadership Dynamics" in the MBA Program at the University of South Australia and at Torrens University in Adelaide, South Australia.
He has been in his own private practice for more than thirty years. He consults with a range of clients including adolescents and adults across the spectrum who present with a lack of confidence or who openly admit that they self-sabotage. He also coaches widely for leaders and managers and has had clients nationally across Australia as well as in Dubai, North America and Ireland for example.
He has written numerous academic papers in refereed journals, writes frequently for the popular press, is on a talk-back radio in Adelaide and is the author of several other books including "The Dark Clouds at Work", & "In Pursuit of Success & Happiness: A Practical Guide" (all on www.amazon.com).
Darryl has given countless seminars and workshops on a variety of topics and his talks and presentations have taken him around Australia as well as to the USA, UK, and South-East Asia.